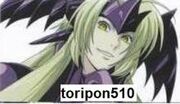 Portrayer Phantaos
250px

Genre

female

Affilation

Under World

Loyality

Hades

Rangks

God Of Dream

Height

?

Weight

?

Family

Status

Died

First Apperance

?

Voiced

?
Portrayer Phantasos (仮象者・パンタソス, Kashōsha Pantasosu?), the god who can wield unreality. He usually appears using a false image of a female version of him, and in the myths, as well as his manga counterpart, wielded the power of creating unreal and ominous dreams. He is cut in half by Capricorn El Cid, becoming the first of the dream gods to fall. Interestingly, while dying, Phantasos' "face" came off, as his disguise has been ripped of together with his body by El Cid's attack. In the anime adaptation, the technique he used to ensnare his victims in their dreams was given the name Grim Fantasia (グリム・ファンタジア, Gurimu Fantajia?).
Ad blocker interference detected!
Wikia is a free-to-use site that makes money from advertising. We have a modified experience for viewers using ad blockers

Wikia is not accessible if you've made further modifications. Remove the custom ad blocker rule(s) and the page will load as expected.